Spotlight on Design: Brown & Blue
I really wanted my style to show through when I decorated the space. I wanted a blend of
modern lines
and
classic curves
, a mix of masculine and feminine. I wanted anyone to be able to enter the space and feel like it was relatable.
So, I picked a colour scheme - Brown & Blue. It was a great way to mix all the elements I wanted together. Not really a common colour scheme and I certainly don't believe I was following any trends, but I loved the juxtaposition of the warm and cool colours sort of coming together in perfect synergy.
Like most condos in the downtown core, I was strapped for space. So I really needed to use just the minimum amount of furniture. I ditched a dining table in favor of 2 stools at the counter.
I really didn't want to take away from the beauty of the hardwood floors, so I opted out from putting down any rugs whose colours would clash. I
did
however want to add a bit of texture to the floor and have something that forms an "island" if you will, which would create a mental separation between the living room and my open concept kitchen. My solution came in the form of a gift from my Papa. A cowhide rug.
Another thing I had to keep in mind was I needed
storage
. The ottoman I got from Crate & Barrel, is wonderful because it's multi-purpose: it opens up to reveal extra storage and when I am entertaining, it provides extra seating space for guests.
My couch is another one of these mutli-purpose pieces of furniture. In case of guests
it pulls out into a queen sleeper
. It, along with my ottoman, has very clean straight edges and lines. Nothing fancy, just your average couch in a warm tan colour. I wanted comfort and I got it. I really wanted it to contrast with my
victorla
and the beautiful sideboard I found at a closing-down
antique shop
for a
steal
.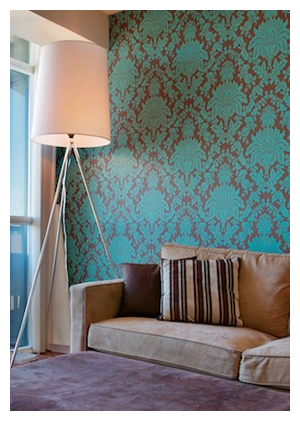 I really tried to space out the layout as much as I could. I wanted maximum functionality and a living area that really flowed well.
Lighting
played a huge part in this and finding the
perfect lamp
literally took weeks. I love mood lighting, and at nights, I prefer lamp light to overhead lights. It really creates a warm, cosy atmosphere, perfect for relaxing with a book after a long day at work or at school.
Now, of course, the focal point of my entire condo would
have
to be my gorgeous wallpaper. I
knew
wanted it to be brown and blue and I also wanted it to be a classical floral design. I wanted it to really represent the aesthetic I was looking for: modern colour scheme coupled with a very classical design. Finding it was an absolute
dream
!
Finishing up the space is just painting select walls a colour as close to the blue in the wallpaper as possible and of course some throw pillows to bring everything together.
For those of you who like this look, here are some of the
key elements
that bring this together. Like I mentioned before, my cowhide rug is from my father, but you can easily find a good one in IKEA. Click on the images below for links to the products or alternatives.
Key Elements:
---
Sources:
Images taken by Trevor Poczynek
Key element images can be found on the website they link to
Labels: Fashion/Design, Home Decor